Bei Nacht
en: Bei Nacht (At Night) (At Night), op. 50, for piano trio
de: Bei Nacht, op. 50, für Klaviertrio
Allegro moderato – Più mosso – Tempo I – Tranquillo – Tempo I – Allegro molto – Tempo I – Tranquillo

UA 2000 University of Illinois, US
publ: 2001 Hofmeister
en: "Bei Nacht" was written for the Kandinsky Trio of Illinois in 1999. Around the time of composition was a Kandinsky Retrospective at the Royal Academy in London. Amongst the exhibits was a particularly striking, early oil painting entitled "Nacht", which looked more akin to the work of Cezanne or of the French impressionists and quite unlike those works of Kandinsky's later style. In this painting concentric circles spread outwards from a darkly morbid moon, like ever widening circular ripples on a pond. Against this seemed to be apparitions of dancing figures.
Visual stimuli play only a minor role in my works, yet the mysterious salubriousness of the painting captured the imagination. The vividly depicted circles found expression in a recurring "ground bass", underpinning a gradual crescendo in texture and intensity; the spectral dancers were alluded to in an irregular, agitato passage in 5/8.
At the climax of the piece these two elements combine; the welter of sound is abruptly broken off, however, and it is in the subdued atmosphere of the opening that the work concludes. The piece also corresponds to Hermann Hesse's poem "Bei Nacht", beginning: "Nachts, wenn das Meer mich wiegt und bleicher Sternenglanz auf seinen weiten Wellen liegt" (At night, when the sea rocks me and pale glow of the stars lies on its wide waves). The work is in one movement, the durations is about 10 minutes.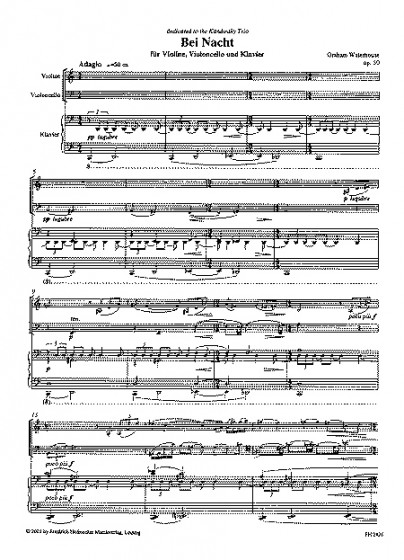 de: "Bei Nacht" wurde 1999 für das Kandinsky Trio aus Illinois geschrieben. Zu der Zeit gab es eine Kandinsky-Retrospektive in der Royal Academy in London. Unter den Exponaten war ein aufsehenerregendes frühes Gemälde, das eher an Cezanne oder an die französischen Impressionisten erinnerte, ganz anders als Kandinskys spätere Werke. In diesem Gemälde streben konzentrische Kreise um einen dunklen, morbiden Mond nach außen, wie die kreisförmigen Wellen in einem Teich. Dagegen stehen die Erscheinungen tanzender Figuren.
Bildliche Eindrücke spielen in meinen Werke nur eine geringe Rolle, doch die geheimnisvolle Dunkelheit dieses Gemäldes sprach mich unmittelbar an. Die lebendig wirkenden Kreise fanden Ausdruck in einem wiederkehrenden Bass-Thema. Hierauf baut sich eine allmähliche Steigerung in Dichte und Intensität auf. Die geisterhaften Tänzer sind "agitato" in einem unregelmäßigen 5/8-Takt dargestellt.
Auf dem Höhepunkt werden die beiden Elemente kombiniert. Der Klangrausch bricht aber abrupt ab, und das Werk kehrt zur gedämpften Athmosphäre des Anfang zurück. Das Stück korrespondiert auch mit Hermann Hesse Gedicht "Bei Nacht", das beginnt: "Nachts, wenn das Meer mich wiegt und bleicher Sternenglanz auf seinen weiten Wellen liegt". Das einsätzige Werk dauert etwas 10 Minuten.
… that Graham Waterhouse composed the piano trio
Bei Nacht
(At Night), inspired by a Kandinsky oil painting entitled ''Nacht''?
(Wikipedia recent additions
15 September 2012
)