Gestural Variations
en: Gestural Variations op. 43 for oboe, bassoon and piano
Premiere IDRS Conference 1997, Northwestern University, Evanston, Illinois USA
by John Dee (oboe), Henry Skolnick (bassoon), José Lopez (piano)

Introduction

Theme

Var. 1 (abrupt, jerky)

Var. 2 (slow, graceful)

Var. 3 (fleeting, breathless)

Var. 4 (pensive, hesitating)

Var. 5 (threatening, menacing)

Var. 6 (exuberant, ebuliant)

Postlude
de: Gestural Variations op. 43 für Oboe, Fagott und Klavier

Introduktion

Thema

Var. 1 (schroff, ruckartig)

Var. 2 (langsam, graziös)

Var. 3 (flüchtig, atemlo)

Var. 4 (nachdenklich, zögernd)

Var. 5 (drohend, bedrohlic)

Var. 6 (überschwänglich, sprudelnd)

Nachspiel
publ: 1998 Hofmeister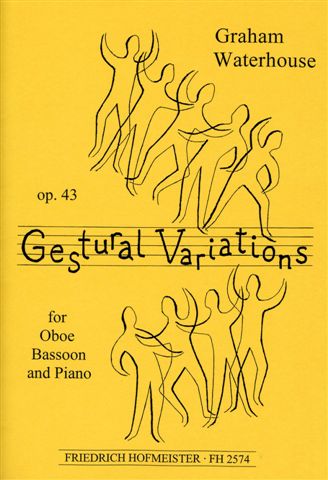 Gestural Variations op. 43a for clarinet, cello and piano - CD
Gestural Variations op. 43a für Klarinette, Violoncello und Klavier
publ: 1999 Hofmeister
Gestural Variations op. 43b for oboe, cello and piano
Gestural Variations op. 43b für Oboe, Violoncello und Klavier
UA 31. März 2000 Weimarer Frühjahrstagung für zeitgenössische Musik
3. Preis im Kompositionswettbewerb
Gestural Variations op. 43c for flute, cello and piano
Gestural Variations op. 43c für Flöte, Violoncello und Klavier
UA 20. Dezember 2009, München
en: Double Reed News wrote in 1998:
It is unusual to be haunted and refreshed at once, but Graham Waterhouse's newly released trio strikes the ear as original in many aspects. The work is based on a short theme of only ten bars laying down a pattern of tritones, augmented fourths and diminished octaves that presses on throughout, forever fleeting and unresolved… The composer's purposeful use of ambiguous, shifting harmonies and overlapping unisons sets these contrasts in miniature apart from much that is being written today, conveying the uncertainty of our times.
de: Jede Variation bringt - ähnlich wie ein Pantomime oder ein Ballett-Tänzer - eine andere Bewegung oder Geste zum Ausdruck.
Did you know … that the flute arrangement of the trio composition
Gestural Variations
was premiered in Munich by the composer, Graham Waterhouse, and two other composers?
(Wikipedia recent additions
21 April 2010
)