Graham Waterhouse


composer and cellist


Graham Waterhouse


Komponist und Cellist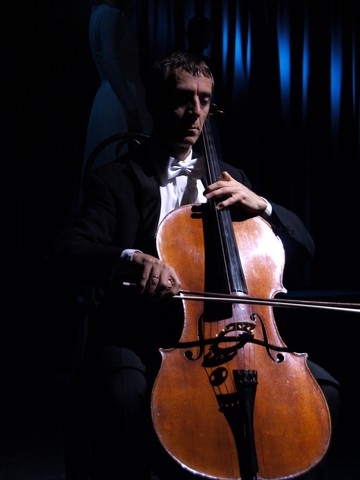 Did you know …
… that the flute arrangement of the trio composition
Gestural Variations
was premiered in Munich by the composer, Graham Waterhouse, and two other composers?
(Wikipedia recent additions
21 April 2010
)
Aktuelle Werke
2014
Moonbass
für Sopran und Cello
Yellow Dog Dingo
für Violine und Cello
UA
19. Oktober 2014, Hombroich
en:
Yellow Dog Dingo is named after one of those near-legendary creatures from the "Just So Stories" by Rudyard Kipling. The animal is a yellowy-coloured Australian canine, living in the wild prairies, scavenging from other animals, like hyenas. Within this Duo for Violin and Cello can be found hints of Didgeridu sounds, as well as suggestions of barking and howling especially at the beginning and at the end.
Skylla and Charibdis
, Klavierquartett
UA
2. November 2014, München
en:
Skylla and Charibdis refer to the two sea monsters which, as reported by Homer in the Odyssey, lived opposite each other, probably on he straits of Messina, though this is not explicitly stated, and, with their long and treachorous tentacles, devoured any errant sailors or sea travellers that ventured too close. Odysseus lost six of his crew as he passed through the straits.
The piece is in four movements which are played without a break. They do not refer specifically to the protagonists or to events connected with the famous legend, but rather play on the abstract images conjoured up in the composer's mind during the writing, i.e. to his own subjective reaction to thoughts concerning the saga.
The opening reflects on the deep channel, the swirling currents within the straights. This sea Picture is interrupted by a fast movement of threatening and aggressive character, characterized by abrupt dynamic and metric changes. After a hushed, hymn-like interlude, based upon overlapping melodic lines, mirroring each other like primitive tribal chants there follows a 9/8 conclusion in which the stringed instrumentalists seem to battle it out with the piano for supremacy - though no clear winner emerges.
As with other recent works, the composer is interested in the interface between traditional chamber music and the avant-garde movements. This reflects the composer's own background and experience, which embraces both the classical repertoire and, largely through his association with a number of New Music ensembles, avant garde means of expression. On the one hand he treasures the virtues of fine chamber music writing and playing, with its emphasis on dialogue, on action in balance with reaction and on the interplay between equal partners. On the other he likes to exploit "contemporary" compositional and instrumental techniques as a means of extending the palette of musical sounds and expression. Hence the use of devices such as bitonality, sul-ponticello, glissandi and barriolage, though always within the context of a coherent, through-composed musical structure.
de:
Die Inspiration für das Werk war Homers Beschreibung von zwei Meerungeheuern, die auf den beden Seiten der Straße von Messina Seefahrer bedrohen. Odysseus verlor sechs seiner Gefährten in der Meerenge. Die Redewendung "zwischen Skylla und Charybdis" steht für eine Situation, in der man sich zwischen zwei Gefahren befindet.
Das Stück ist in vier durchkomponierten Sätzen strukturiert. Der erste ist ein Bild der unheimlichen Meerenge mit Strudeln und Strömungen. Ein schneller Satz von bedrohlichem und aggressivem Charakter wird von abrupten dynamischen und metrischen Wechseln bestimmt. Auf ein Zwischenspiel mit sich überlagernden Gesängen folgt der Schluss im 9/8-Takt, in dem die Streicher mit dem Klavier um die Vorherrschaft streiten.
Der Komponist interessiert sich für die Schnittstelle zwischen traditioneller Kammermusik und den erweiterten Spieltechiken der Avantgarde. Er betrachtet Techniken wie wie sul-ponticello, Glissandi, Barriolage und verschiedene Tremolandi als erweiterte Möglichkeite des Ausdrucks.
Carpe diem
, Festkantate für Soli, Kinderchor, Chor und Orchester
UA
1. Oktober 2014, München
Prolog (Orchester)
Wir streben (Chor und Bläser)
Kunst und Kenntnis (Unterstufen-Chor und Klavier)
Erziehung (Sprechchor und Percussion)
Doch es kann auch anders gehen (Sopran und Streichquartett)
Eines Kindes Schullaufbahn (Tenor und Streichquartett)
Interlude (Orchester)
Wissenschaft und Theorie (Duett und Orgel)
Carpe diem (Unterstufen-Sprechchor und Klavier)
Das Oskar (Chor und Orchester)
Hymne (Tutti)
de:
Die Festkantate
Carpe diem
wurde im Frühjahr 2014 komponiert zur Feier von 150 Jahren Oskar von Miller-Gymnasium. Der Text zum Thema Erziehung wurde von der Schülerin Alina Rothmeier verfasst. Die Kantate feiert nicht nur ein Jubiläum, sondern auch die Kraft der Musik, verschiedenste Instrumentalisten und Sänger in einem gemeinsames Projekt zu vereinen. In der Aufführung wirken zwei Schulchöre und das Schulorchester mit, unterstützt von Profis und Sommerkurs-Teilnehmern.
Das Werk spiegelt die vielfältigen musikalischen Erfahrungen des Komponisten als Cellist, Chorsänger, Organist und Pianist. Es enthält, wie die Oratorien von Händel, mehrere Teile. Jeder Satz ist anders instrumentiert, und erst im letzen Chorsatz werden alle Kräfte vereint. Der Komponist interessiert sich für die Schnittstelle zwischen Etablissement und Avantgarde. Vertraute Formen und Schreibweisen werden verfremdet durch neue Techniken, wie z.B. Sprechchor.
Der
Prolog
für Orchester wird von einem charakteristischen fünfsilbigen Motiv geprägt (Os-kar von Mil-ler), das in späteren Sätzen wiederkehrt. Das Motiv Carpe diem wird von Trompete und Horn vorgestellt.
Das
Interlude
(Nr. 7) weicht vom Erziehungsthema ab und widmet sich einem Porträt von Oskar von Miller als junger Mann, der draufgängerisch, ehrgeizig und widerborstig gewesen sein soll.
Das Oskar
(Nr. 10) für Chor und Orchester ist ätherisch und schwebend, Flöten- und Klarinettenfiguren huldigen dem Oskar-Tag.
Im dreiteilgen
Finale
(Nr. 11) werden die drei Strophen der Hymne von einem rhythmischen Ritornello mit dem Anfangsmotiv gegliedert, jedes Mal neu instrumentiert. Am Schluss werden beide Solisten, beide Chöre, Orchester und Orgel vereint für die Coda, in der das Motto Carpe diem von allen proklamiert wird.
Jota Cromatica
für Viola und Klavier
UA
2. März 2014, Berg
en:
Jota Cromatica was written in early 2014 as a companion piece to the
Sonata ebraica
. The Jota is a Spanish dance in three-time, most commonly associated with the regions of Aragon and Navarra. In its original form it was accompanied by such instruments as bag-pipes, guitars, tambourines and castanettes. Liszt, among others, wrote a celebrated Jota for piano.
the emphasis in this quasi-virtuosic concert-piece is primarily on a lively and robust dialogue between the two instruments. This is set against a continually shifting harmonic background, putting into question the nominally pivotal tonal axis of D. An introduction uses a toccata-like, alternating-hands figuration in the piano. Then, after a hesitant "false start", the dance begins, charaterised by strong accents and repetitive two-bar phrases. A second subject is more linear and lyrical, especially in the viola writing, - "chromatic" here in the side-stepping nature of the voice leading. The coda works itself into a well-nigh hispanic frenzy before the opening toccata figuration in the piano calls a halt to the proceedings and abruptly draws the work to a close.
Alcatraz
für Streichquartett
The Rock - Adagio - Moderato e risoluto
Solitary - Scherzo, Agitato ma non troppo allegro
Sioux - Andante lamentoso
Testimony - Allegremente, precipitando
UA
31. Januar 2014, Gauting
2013
Sextett
op. 1, für Streichsextett (2 Violinen, 2 Bratschen, 2 Celli), 1979-2013
UA
9. Februar 2014, München
Stonecircle
für Streichquartett
UA
18. Januar 2014, München
Bells of Beyond
für Violine, Violoncello und Klavier
UA
27. Oktober 2013, München
Sonata Cubista
für Violine und Klavier
UA
27. Oktober 2013, München
in nomine for cello solo
UA
14. April 2013, Idstein
UK premiere
21 May 2013, Birmingham
Trilogy
für Klavier und Streichquartett
UA
20. März 2013, München
en:
Trilogy was written in April 2013 for a French-German Gala concert in Munich. The piece, scored for piano and string quartet, is based principally on the National Anthems of France and Germany. Symbolic of the cordial and conciliatory sentiments of the evening, the two Anthems are, in the course of their presentation, superimposed - sounding together in harmony. At the apogee of the work, as these two Anthems draw to a close, in chimes the English National Anthem, in a different key, surrounded by the martial, rhythmic strains of the "Marseillaise". At the very end, in an especially significant gesture of pan-European cooperation and counterpoint, the openings of all three Anthems resound together. Three different tunes, each unique, steeped in history, together with their imagined words run concurrently - hence the title, "Trilogy" (Ancient Greek: "three words").
The Vasty Deep
Tondichtung für Orchester
UA
17. März 2013, Offenbach
de:
Die Worte "the vasty deep" stammen aus Shakespeares historischem Drama "Henry IV", Teil 1. Der rebellische wallisische "nobleman" Owen Glendower protzt mit seinen besonderen Fähigkeiten, Geister und Urkräfte zu beschwören: "I can call spirits from the vasty deep", behauptet er, "Ich kann Geister aus unermesslichen Tiefen rufen". "Vasty" ist eine Wortschöpfung von Shakespeare, abgeleitet von "vast" (unermesslich, riesig oder gewaltig). Das Stück beginnt "mormorando" in den Tiefen des Orchester, in Celli, Kontrabässen und Harfe. Ein punktiertes Motiv tastet seinen Weg durch die Register des orchestralen Gewebes bis in die Höhe. Die langsame Bewegung wird abgelöst von einer quirligen Episode in meist schnellen Triolen, die Glendowers "spirits" (Geister) andeuten. Zum Schluss kehren die Geister in die Tiefe zurück, aus der sie gekommen sind, das Werk blendet in die tiefen Klänge des Anfangs ab.
The Bandersnatch
für Klaviertrio
UA
16. März 2013, Salem, Virginia
en:
"The Bandersnatch" is the name of an invented creature from Lewis Carroll's famous nonsense poem "The Jabberwocky", which appeared in his novel "Through the Looking Glass" (1874). Neither in this poem nor in another mention in "The Hunting of the Snark" is there any clear description of the Bandersnatch. After hearing the "Jabberwocky", Alice herself comments that the poem fills her head with ideas, but that she does not know what they are. Carroll's words do indeed seem to have subtle over-tones, just as do low, resonant notes and certain chords. The adjective "frumious" hints at both ferocious and ominous. The shroud of mystery surrounding the Bandersnatch remains - adding to its fascination.
The piece, written for the Kandinsky Trio, approximates to the form of Scherzo and Trio and uses quite abrupt and contradictory musical gestures, in keeping with a creature found in a world behind the Looking-glass. Unconventional playing devices such as col legno gettato, sul ponticello and Bartok pizzicato also play their part in evoking the Lewis Carroll's make-believe, fantasy world.
Sonata ebraica
für Viola und Klavier
1. Grave, pesante - Allegro
2. Adagio piangendo, serioso
3. Allegro vivo
UA
3. Februar 2013, München
de:
Das Wort wurde im Winter 2012/13 in München komponiert. Es ist die erste Sonate des Komponisten, der gern auf traditionelle Formen zurückgreift, und auch sein erstes Solo-Werk für Viola. Er versteht die Gattung als Herausforderung, avancierte technische Elemente der beiden Instrumente mit einer klar gegliederten Form in Einklang zu bringen. Außerdem betrachtet er die Sonate als die Entfaltung eines narrativen Ereignisses, geprägt von der Auseinandersetzung zweier gleichwertiger Protagonisten. Das Material entfaltet sich im Dialog zwischen den Instrumenten, die agieren und aufeinander reagieren. Das Werk bietet für den Viola-Spieler eine besondere Herausforderung - die Stimme besteht einerseits aus virtuosen Passagen, berücksichtigt aber auch die tiefen, klangvollen Register der Bratsche.
Der erste Satz eröffnet mit einer langsamen, feierlichen und deklamatorischen Einleitung. Glockenklänge im Klavier erinnern an eine jüdische religiöse Versammlung. Diese eindringlichen Klänge mit reichen Terz- und Quint-Obertönen kehren während des Werkes immer wieder. Das folgende Allegro beginnt mit einem ernsten, vorwärts strebenden Thema, das tief auf der C-Saite des Instruments beginnt und sich nach und nach bis auf die A-Saite hocharbeitet. Als Seitenthema erklingt ein derbes pizzicato-Motiv. Eine Saitenwechsel-Passage, fünfmal wiederholt mit stets steigender Spannung, wird abrupt unterbrochen durch die Glocken-Akkorde, gefolgt von einer ätherischen Flageolett-Passage. Eine Reprise des Allegro-Materials schließt sich an, allerdings transponiert, verkürzt und variiert.
Der zweite Satz, langsam und getragen, ist eine Art Diskurs zwischen weit gespannten Klavierakkorden und rezitativischen Phrasen der Viola. Am Ende des Satzes erklingt in gedämpfter Stimmung das bekannte jüdische Volkslied "Am Kamin", kombiniert mit den weitgespannten Phrasen vom Anfang des Satzes, diesmal im Klavier.
Der letzte Satz basiert auf einer vertrackten Figur aus einer Anthologie jüdisch-amerikanischer Geigen-Stücke des frühen 20. Jahrhunderts. Immer wieder bleibt die dringliche Bewegung kurz stehen, bevor sie wieder aufgenommen wird. Formal sind zwei Episoden eingeflochten, die erste besteht aus einem lyrischen Thema, begleitet von einem chromatischen Bass in Achtelnoten, die zweite aus einem rhythmischen Motiv mit drei heftigen, protestierenden Abstrich-Akkorden über einem beharrlichen Ostinato-Bass. Der Dialog Viola und Klavier türmt sich auf zu einer hitzigen Auseinandersetzung. Erst gegen Ende des Stücks scheint der Sturm zur Ruhe zu kommen. In einer Coda vereinen sich die Kräfte, bevor die Anfangsfiguration der Viola das Werk zum Schluss führt.
en:
Edwin Roxburgh
remarked to the composer: "Your Sonata is very affecting, giving the viola a passionate character in the work's compelling virtuosity and expressive focus. I've always been a fan of Bloch's Suite in which he quotes a Yiddish melody. But yours shows a more subtle fusion of the melody with your own material."