Graham Waterhouse


composer and cellist


Graham Waterhouse


Komponist und Cellist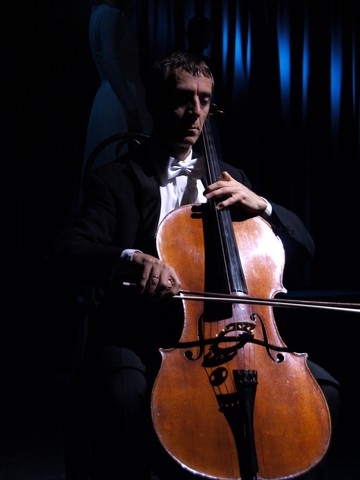 Did you know ...
... that composer Graham Waterhouse was the cellist in a performance of his string trio
Zeichenstaub
at his
former school
, playing the U.K. premiere with two members of the Münchner Philharmoniker? (
19 April 2013
)
... that
Mouvements d'Harmonie
for wind nonet was composed by Graham Waterhouse for the 60th birthday of his father, the bassoonist William Waterhouse? (
28 August 2014
)
Aktuelle Werke
2014
Skylla and Charibdis
, Klavierquartett
UA
2. November 2014, München
Carpe diem
, Festkantate für Soli, Kinderchor, Chor, Band und Orchester
UA
1. Oktober 2014, München
Jota Cromatica
für Viola und Klavier
UA
2. März 2014, Berg
en:
Jota Cromatica was written in early 2014 as a companion piece to the
Sonata ebraica
. The Jota is a Spanish dance in three-time, most commonly associated with the regions of Aragon and Navarra. In its original form it was accompanied by such instruments as bag-pipes, guitars, tambourines and castanettes. Liszt, among others, wrote a celebrated Jota for piano.
the emphasis in this quasi-virtuosic concert-piece is primarily on a lively and robust dialogue between the two instruments. This is set against a continually shifting harmonic background, putting into question the nominally pivotal tonal axis of D. An introduction uses a toccata-like, alternating-hands figuration in the piano. Then, after a hesitant "false start", the dance begins, charaterised by strong accents and repetitive two-bar phrases. A second subject is more linear and lyrical, especially in the viola writing, - "chromatic" here in the side-stepping nature of the voice leading. The coda works itself into a well-nigh hispanic frenzy before the opening toccata figuration in the piano calls a halt to the proceedings and abruptly draws the work to a close.
Alcatraz
für Streichquartett
UA
31. Januar 2014, Gauting
2013
Sextett
op. 1, für Streichsextett (2 Violinen, 2 Bratschen, 2 Celli), 1979-2013
UA
9. Februar 2014, München
Stonecircle
für Streichquartett
UA
18. Januar 2014, München
Bells of Beyond
für Violine, Violoncello und Klavier
UA
27. Oktober 2013, München
Sonata Cubista
für Violine und Klavier
UA
27. Oktober 2013, München
in nomine for cello solo
UA
14. April 2013, Idstein
UK premiere
21 May 2013, Birmingham
Trilogy
für Klavier und Streichquartett
UA
20. März 2013, München
en:
Trilogy was written in April 2013 for a French-German Gala concert in Munich. The piece, scored for piano and string quartet, is based principally on the National Anthems of France and Germany. Symbolic of the cordial and conciliatory sentiments of the evening, the two Anthems are, in the course of their presentation, superimposed - sounding together in harmony. At the apogee of the work, as these two Anthems draw to a close, in chimes the English National Anthem, in a different key, surrounded by the martial, rhythmic strains of the "Marseillaise". At the very end, in an especially significant gesture of pan-European cooperation and counterpoint, the openings of all three Anthems resound together. Three different tunes, each unique, steeped in history, together with their imagined words run concurrently - hence the title, "Trilogy" (Ancient Greek: "three words").
The Vasty Deep
Tondichtung für Orchester
UA
17. März 2013, Offenbach
de:
Die Worte "the vasty deep" stammen aus Shakespeares historischem Drama "Henry IV", Teil 1. Der rebellische wallisische "nobleman" Owen Glendower protzt mit seinen besonderen Fähigkeiten, Geister und Urkräfte zu beschwören: "I can call spirits from the vasty deep", behauptet er, "Ich kann Geister aus unermesslichen Tiefen rufen". "Vasty" ist eine Wortschöpfung von Shakespeare, abgeleitet von "vast" (unermesslich, riesig oder gewaltig). Das Stück beginnt "mormorando" in den Tiefen des Orchester, in Celli, Kontrabässen und Harfe. Ein punktiertes Motiv tastet seinen Weg durch die Register des orchestralen Gewebes bis in die Höhe. Die langsame Bewegung wird abgelöst von einer quirligen Episode in meist schnellen Triolen, die Glendowers "spirits" (Geister) andeuten. Zum Schluss kehren die Geister in die Tiefe zurück, aus der sie gekommen sind, das Werk blendet in die tiefen Klänge des Anfangs ab.
The Bandersnatch
für Klaviertrio
UA
16. März 2013, Salem, Virginia
en:
"The Bandersnatch" is the name of an invented creature from Lewis Carroll's famous nonsense poem "The Jabberwocky", which appeared in his novel "Through the Looking Glass" (1874). Neither in this poem nor in another mention in "The Hunting of the Snark" is there any clear description of the Bandersnatch. After hearing the "Jabberwocky", Alice herself comments that the poem fills her head with ideas, but that she does not know what they are. Carroll's words do indeed seem to have subtle over-tones, just as do low, resonant notes and certain chords. The adjective "frumious" hints at both ferocious and ominous. The shroud of mystery surrounding the Bandersnatch remains - adding to its fascination.
The piece, written for the Kandinsky Trio, approximates to the form of Scherzo and Trio and uses quite abrupt and contradictory musical gestures, in keeping with a creature found in a world behind the Looking-glass. Unconventional playing devices such as col legno gettato, sul ponticello and Bartok pizzicato also play their part in evoking the Lewis Carroll's make-believe, fantasy world.
Sonata ebraica
für Viola und Klavier
1. Grave, pesante - Allegro
2. Adagio piangendo, serioso
3. Allegro vivo
UA
3. Februar 2013, München
de:
Das Wort wurde im Winter 2012/13 in München komponiert. Es ist die erste Sonate des Komponisten, der gern auf traditionelle Formen zurückgreift, und auch sein erstes Solo-Werk für Viola. Er versteht die Gattung als Herausforderung, avancierte technische Elemente der beiden Instrumente mit einer klar gegliederten Form in Einklang zu bringen. Außerdem betrachtet er die Sonate als die Entfaltung eines narrativen Ereignisses, geprägt von der Auseinandersetzung zweier gleichwertiger Protagonisten. Das Material entfaltet sich im Dialog zwischen den Instrumenten, die agieren und aufeinander reagieren. Das Werk bietet für den Viola-Spieler eine besondere Herausforderung - die Stimme besteht einerseits aus virtuosen Passagen, berücksichtigt aber auch die tiefen, klangvollen Register der Bratsche.
Der erste Satz eröffnet mit einer langsamen, feierlichen und deklamatorischen Einleitung. Glockenklänge im Klavier erinnern an eine jüdische religiöse Versammlung. Diese eindringlichen Klänge mit reichen Terz- und Quint-Obertönen kehren während des Werkes immer wieder. Das folgende Allegro beginnt mit einem ernsten, vorwärts strebenden Thema, das tief auf der C-Saite des Instruments beginnt und sich nach und nach bis auf die A-Saite hocharbeitet. Als Seitenthema erklingt ein derbes pizzicato-Motiv. Eine Saitenwechsel-Passage, fünfmal wiederholt mit stets steigender Spannung, wird abrupt unterbrochen durch die Glocken-Akkorde, gefolgt von einer ätherischen Flageolett-Passage. Eine Reprise des Allegro-Materials schließt sich an, allerdings transponiert, verkürzt und variiert.
Der zweite Satz, langsam und getragen, ist eine Art Diskurs zwischen weit gespannten Klavierakkorden und rezitativischen Phrasen der Viola. Am Ende des Satzes erklingt in gedämpfter Stimmung das bekannte jüdische Volkslied "Am Kamin", kombiniert mit den weitgespannten Phrasen vom Anfang des Satzes, diesmal im Klavier.
Der letzte Satz basiert auf einer vertrackten Figur aus einer Anthologie jüdisch-amerikanischer Geigen-Stücke des frühen 20. Jahrhunderts. Immer wieder bleibt die dringliche Bewegung kurz stehen, bevor sie wieder aufgenommen wird. Formal sind zwei Episoden eingeflochten, die erste besteht aus einem lyrischen Thema, begleitet von einem chromatischen Bass in Achtelnoten, die zweite aus einem rhythmischen Motiv mit drei heftigen, protestierenden Abstrich-Akkorden über einem beharrlichen Ostinato-Bass. Der Dialog Viola und Klavier türmt sich auf zu einer hitzigen Auseinandersetzung. Erst gegen Ende des Stücks scheint der Sturm zur Ruhe zu kommen. In einer Coda vereinen sich die Kräfte, bevor die Anfangsfiguration der Viola das Werk zum Schluss führt.
en:
Edwin Roxburgh
remarked to the composer: "Your Sonata is very affecting, giving the viola a passionate character in the work's compelling virtuosity and expressive focus. I've always been a fan of Bloch's Suite in which he quotes a Yiddish melody. But yours shows a more subtle fusion of the melody with your own material."